Chiropractor
Zgia Kjonaas D.C.
Dr. Zgia grew up in the northern suburbs, farming as a young child with her grandfather, Dave Frattalone. She has been passionate about eating well and using the body efficiently since she was a young child. Her grandfather used to say "use your legs" on the daily.
Growing up in a family of entrepreneurs she learned a lot and loves working with people of all cultures.
Dr. Zgia was on the MV swim team in highschool and continued on to run marathons, workout regularly, and was in a figure show in 2014. She is passionate about the body from both an emotional and physical perspective.
In the last 20 years, she has been involved in missions to Africa, Mexico and Dominican Republic. She has seen the fruits of her labor and the guidance of the Holy Spirit throughout. She believes everyday is a new day to discover your path and enjoy the journey.
Dr. Zgia is married to a wonderful man, who also takes his faith seriously and has led men and women in recovery throughout the twin cities and abroad. They have 2 young boys, and enjoy watching them grow up free of medicines, and chemicals. She is passionate about holistic medicine and having the boys adjusted regularly.
Recently, the clinic in Shoreview grew past capacity and made the change to Vadnais Heights. The clinic serves patients of all ages, cultures, and health levels. Her mission is not only 'to be heal, but be healed.' She hopes to continue this legacy by helping all those around her expand their lives, as they begin to feel more energy, gain perspective and grow the greatest capacity of what they are meant to do.
She has background in many different areas of specialty including diversified adjustments, Functional Neurology, Tonal techniques, nutritional testing and most importantly the healing of the nervous system which controls everything in your body. We only get one brain, one spinal cord. Take care to balance the input/output of the body.
Dr. Zgia getting her certificate in continuing education for Pediatric Chiropractic.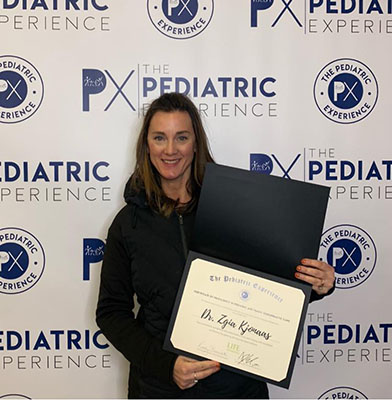 Hi there! My name is Abby and I am the new Office Coordinator. I have worked in the food service industry for over ten years. Repetitive motion, standing for long hours and lifting heavy objects have really put a toll on my body.
So I have decided to do something about it and switch careers! I'm working on my Bachelor's for Human Resource Management and I'm really looking forward to seeing what the future offers.
Olive Me Chiropractic is giving me the first step into a new career and new state of mind and body. I am excited to listen to patient's stories and concerns about their well-being. Together, we can all learn and grow through listening to what our bodies need. I can't wait to meet y'all!
Hey I'm Jasmine, I love connecting with people and helping in any way I can. I enjoy seeing the impact that chiropractic care can have and how it can improve a person's quality of life.
I am also working as a Next Gen Pastor and I absolutely love working with my students! When I am not doing things with my church family I like to crochet, craft, and spend time with friends. I am excited to be part of the team at Olive Me!
Caysey
Hi I'm Caysey, I love to help people and sometimes that means self sacrificing if it will make them better. This may be one of the reasons I decided Olive Me Chiropractic would be a good fit, the opportunity to help others in any/all ways!
I will always push myself past my limits to be a better person. (We love that about Caysey, but we are teaching her self care 😉
I also enjoy spending quality time with friends and family and love growing in various ways including communicating in new ways, learning how to gain confidence and be the person I'm meant to be.
I decided to take the opportunity at Olive Me chiropractic as I enjoy seeing new faces on the daily and getting to know the patients on a deeper level.
Currently, I am studying dental hygiene with high hopes of running my own clinic in the future. Excited to meet you!
OFFICE HOURS
---
Monday
9:30am - 12:00pm
3:00pm - 6:00pm
---
Tuesday
Closed
---
Wednesday
9:30am - 12:00pm
3:00pm - 6:00pm
---
Thursday
9:30am - 12:00pm
3:00pm - 6:00pm
---
Friday
9:30am - 11:00am
---
Saturday
Closed