Chiropractor
Zgia Kjonaas D.C.
Dr. Zgia grew up in the northern suburbs, farming as a young child with her grandfather, Dave Frattalone. She has been passionate about eating well and using the body efficiently since she was a young child. Her grandfather used to say "use your legs" on the daily.
Growing up in a family of entrepreneurs she learned a lot and loves working with people of all cultures.
Dr. Zgia was on the MV swim team in highschool and continued on to run marathons, workout regularly, and was in a figure show in 2014. She is passionate about the body from both an emotional and physical perspective.
In the last 20 years, she has been involved in missions to Africa, Mexico and Dominican Republic. She has seen the fruits of her labor and the guidance of the Holy Spirit throughout. She believes everyday is a new day to discover your path and enjoy the journey.
Dr. Zgia is married to a wonderful man, who also takes his faith seriously and has led men and women in recovery throughout the twin cities and abroad. They have 2 young boys, and enjoy watching them grow up free of medicines, and chemicals. She is passionate about holistic medicine and having the boys adjusted regularly.
Recently, the clinic in Shoreview grew past capacity and made the change to Vadnais Heights. The clinic serves patients of all ages, cultures, and health levels. Her mission is not only 'to be heal, but be healed.' She hopes to continue this legacy by helping all those around her expand their lives, as they begin to feel more energy, gain perspective and grow the greatest capacity of what they are meant to do.
She has background in many different areas of specialty including diversified adjustments, Functional Neurology, Tonal techniques, nutritional testing and most importantly the healing of the nervous system which controls everything in your body. We only get one brain, one spinal cord. Take care to balance the input/output of the body.
Dr. Zgia getting her certificate in continuing education for Pediatric Chiropractic.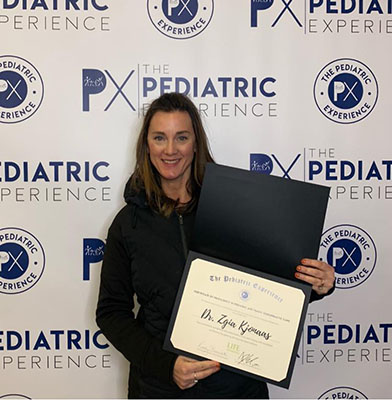 Hi, I'm Bianca! I am most passionate about the body and the nutrition that is put in it. I study this area consistently and love to see patients thrive. I started my Chiropractic journey 4 years ago and find myself healing and loving watching others heal. I am currently in school p/t to further my knowledge of the body and hope to bring life to patients and help them in any way I can.
I am originally from Romania and came to the US 20 years ago. If your birthday comes along, and you are kind...I may just sing you a song in Romanian. I am multi-lingual and have done multiple missions to Haiti. I love helping people!
I have a young boy and love to see him thrive next to the other children we see here at Olive Me chiropractic. Let me extend my hand to your family and change the trajectory of your life!
Check-In Coordinator
Linde
I am a huge advocate for chiropractic! I have learned so much over the years from working with and being under the care of chiropractors. I am looking forward to learning and growing more here with Dr. Zgia!
I am holistically minded and try to eat, move and be healthy. I love running and playing volleyball but I haven't been able to do either for a few years. I know my physical health is in good hands here and I'll be running again soon!
I'm a mom to a fun, energetic daughter that is 10, and loves playgrounds and swimming.
OFFICE HOURS
---
Monday
9:30am - 12:00pm
3:00pm - 6:00pm
---
Tuesday
Admin Only
---
Wednesday
9:30am - 12:00pm
3:00pm - 6:00pm
---
Thursday
9:30am - 12:00pm
3:00pm - 6:00pm
---
Friday
9:30am - 11:00am
---
Saturday
Closed